Reasons Why You Should Use Smoked Sea Salt In Food
Jan 9th 2022 by Viva Doria Admin
Reasons Why You Should Use Smoked Sea Salt In Food
Evaporated salt water is used to make Sea salt flakes and this salt is further infused with smoke from actual, untreated wood to make smoked salt. It includes minerals such as zinc, potassium, and iron that were derived from the site where it was harvested. There are no artificial flavors or colors added to this preparation. For up to 2 weeks, the salt is burned with bark-free hardwoods. The wood gives its distinct flavor to the salt during this period, which can range from mild to intense to sweet. In comparison to table salt, smoked sea salt is generally unrefined and coarse-grained.
Three Culinary Favorite Smoked Salt Types
Hickory Smoked Salt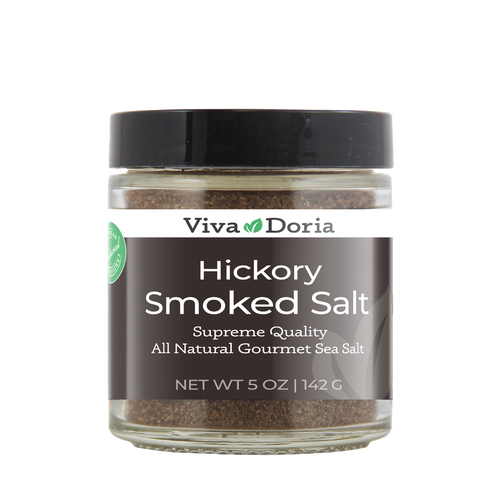 Salt that has been cold-smoked with hickory wood offers a sweet and savory flavor as well as a distinct, smoky aroma. Perfect for barbecue, burgers, red meat, pig, turkey, maple syrup, caramel, ham, sausage, and even prawns, this flavor defines Southern American cookery. Hickory smoked salt is a must-have in the cabinet of any seasoned BBQ expert! The Pure Sea Salt is carefully smoked over a Hickorywood Fire to make this rich salt; the result is a robust, savory, peaty salt with a lovely Hickory scent.
Applewood smoked salt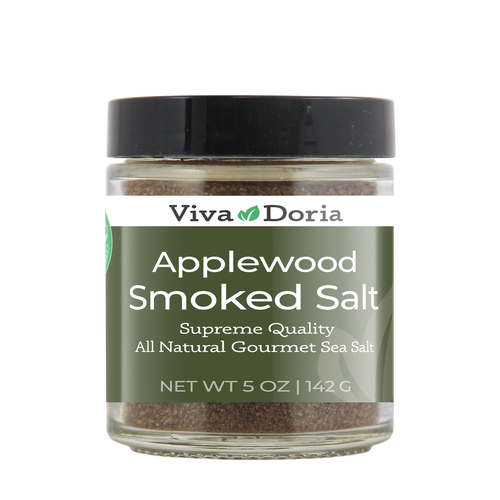 Cold-smoked salt with sweet applewood offers it a delectable sweet, fruity, earthy character. Applewood smoked saltis the most subtle of all the smoked salts. It's fantastic with shellfish, fish, chicken, and roasted vegetables. With this wonderful smoked sea salt, you can add a sweet and savory touch to your cuisine! Shop this smoked salt from Vivadoria for premium quality.
Cherrywood smoked salt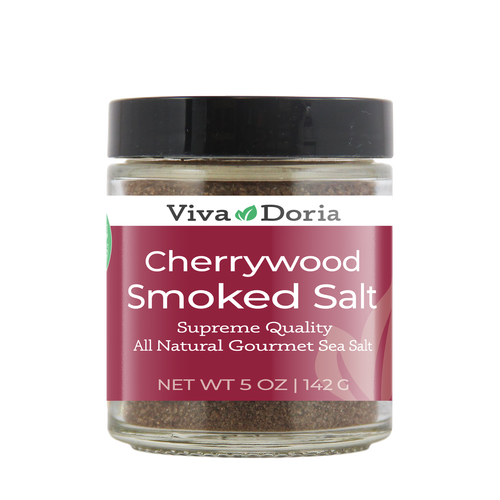 Season your meals with this delicious smoked salt, which is favored by chefs all around the world. Pure Sea Salt has been carefully smoked atop a Maine Cherrywood fire, a centuries-old method. The end product is a smooth, somewhat sweet sea salt that is free of harshness and bitterness. This lovely, fragrant Cherrywood smoked salt is a must-have for anytime you want to add a punch of flavor to your cuisine. No matter how dull or flavorless your meal is, a little bit of seasoning of this salt will delight your taste buds.
Benefits Of smoked sea salt
Smoked salt is ideal for boosting the salinity of cuisine while also adding the smokiness of burnt wood and the distinct flavors of various types of wood. It's ideal for anybody trying to add flame-grilled flavor to a meal, from meat-eaters looking to amp up a BBQ to vegetarians or vegans looking to give flame-grilled flavor to a plate. Smoked sea salt is a terrific, naturally processed taste enhancer that effortlessly imparts flame-grilled saltiness to a dish without using harsh, artificial-tasting chemical smoke. Here are some additional advantages of using this salt in your cooking-
May Promote the health of your digestive system.
May Prevent dehydration by balancing your fluids.
It's often used with herbs and spices to make a marinade.
In comparison to refined table salt, it is also a healthier and more natural option.
Smoked salt has distinct characteristics that contribute to the preparation of delicious, and healthful recipes. They're an excellent chemical-free alternative to gaseous smoke. It lets you relish that smokey, scrumptious flavor in your dishes without having to worry about contaminants in the food. These salts are simply delicious and make a boring platter extremely goluptious.
How to use Smoked salt in Food?
There are various methods to include smoked sea salt into your diet if you want to use it in cooking. It may have more or less flavor than table salt, depending on the variety. Sprinkling sea salt over roasted vegetables, adding it to chocolate-based desserts, and seasoning steaks, hamburgers, and fish are all common ways to use it. If your eggs or avocado are getting a little boring, try adding some smoked salt on top.
Smoked salt is your ultimate cooking partner if you do not own a BBQ or grill. Again, if you want the flavor of flame-grilled food with ease, just consider adding this salt to the meal. Any meal can benefit from its smoky flavor, whether it's meat, seafood, or vegetables. Smoked salts are an excellent option to add flavor to a snack. On a grilled cheese sandwich, sprinkle it on top. It goes well with salads and fresh vegetables like cucumbers and cherry tomatoes. To make a salty-sweet snack, sprinkle a bit of salt on some melon. Add a pinch of smoked salt to sauces, stews, marinades, and soups that need some smokiness. Finally, smoked sea salt can also be used as a garnish for your cocktail as well as a salt rub for your meats.
Wrapping Up
Smoked salt is ideal for adding richness and scent to dishes in the kitchen. The creative possibilities are nearly unlimited with the variety of flavor selections offered. It's as robust as it is versatile, making it the ideal option to organically bring a lovely smoked taste to a variety of meals. Vivadoria is one of the best places to look for excellent smoked sea salt products in various wood flavors such as hickory smoked salt, applewood smoked salt, cherrywood smoked salt, and many more. Shop today!
< View all posts